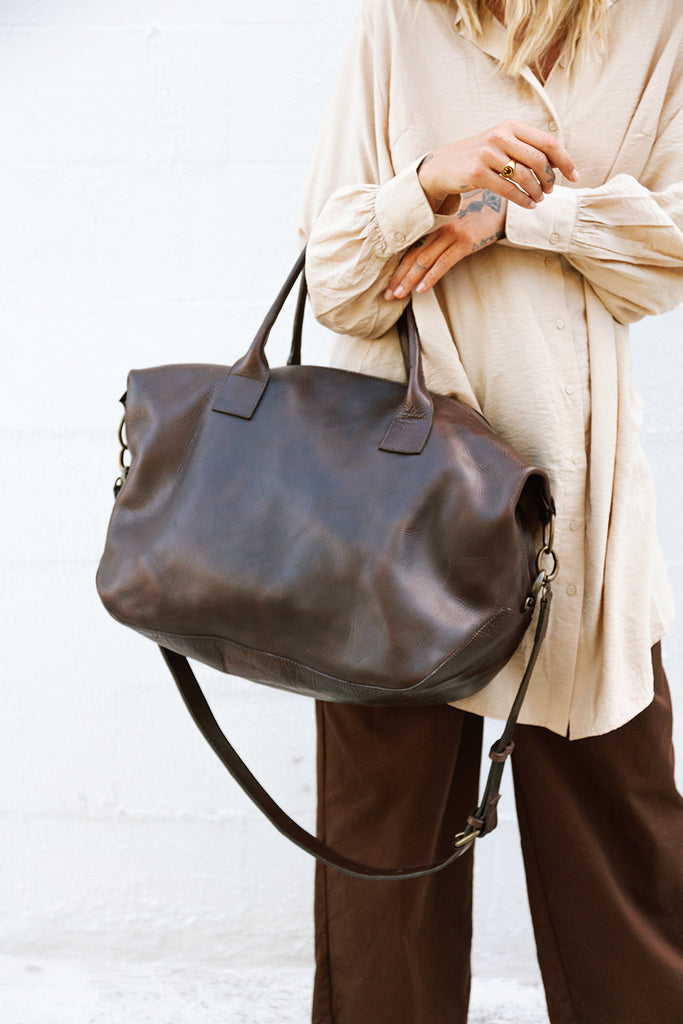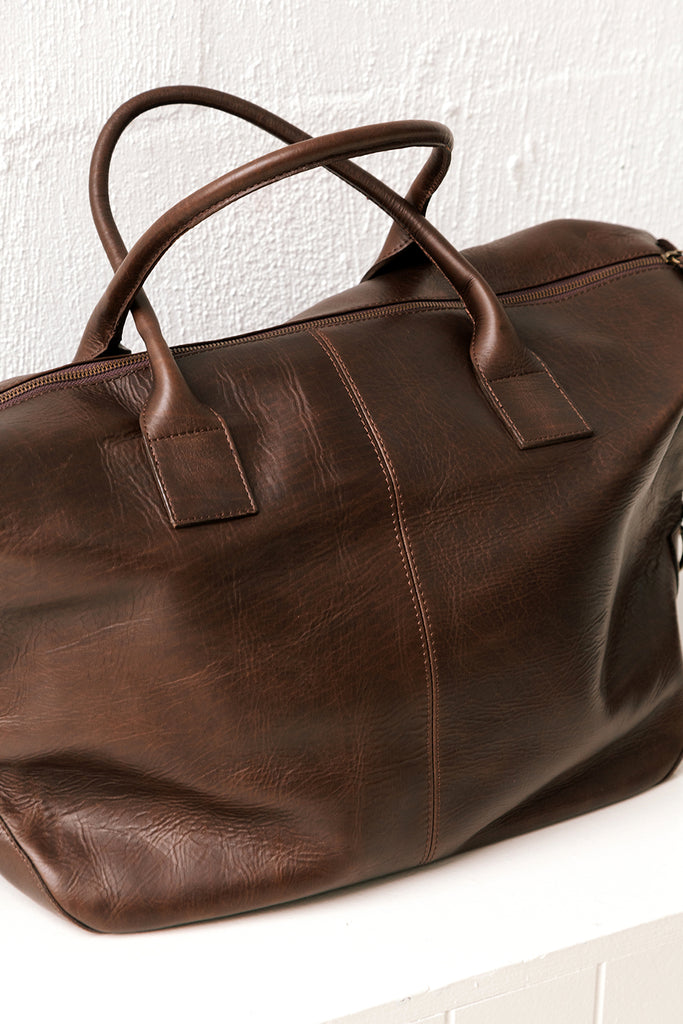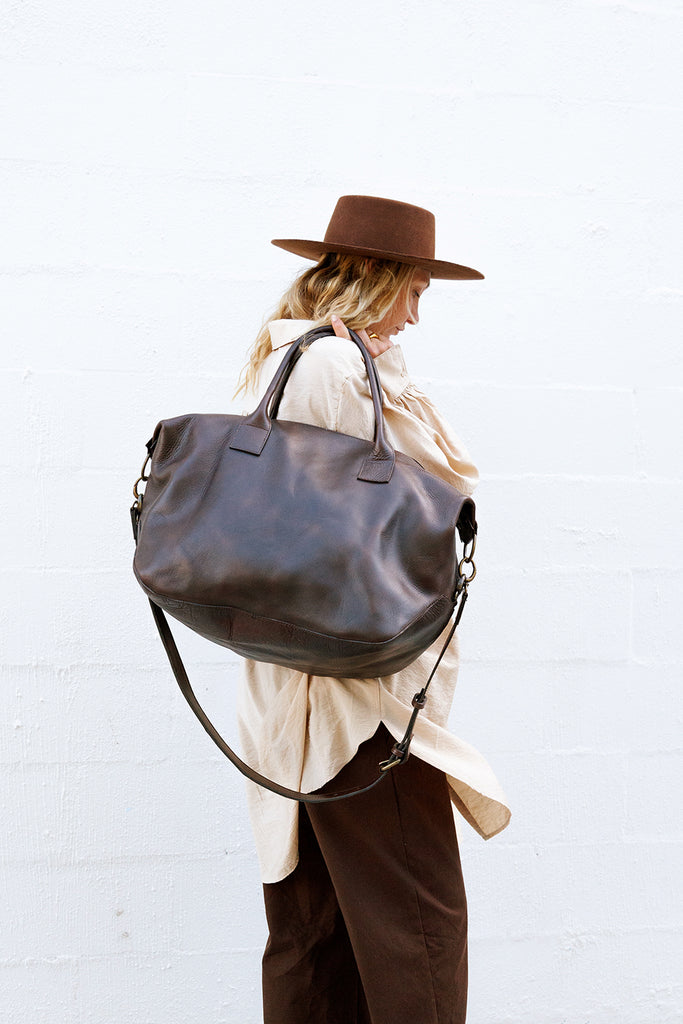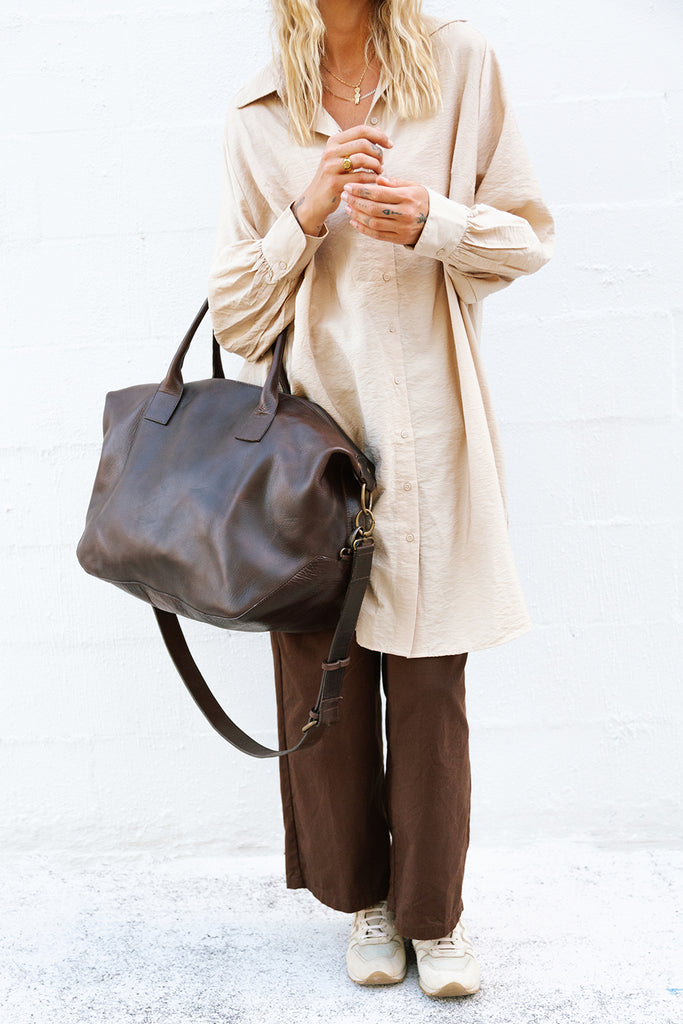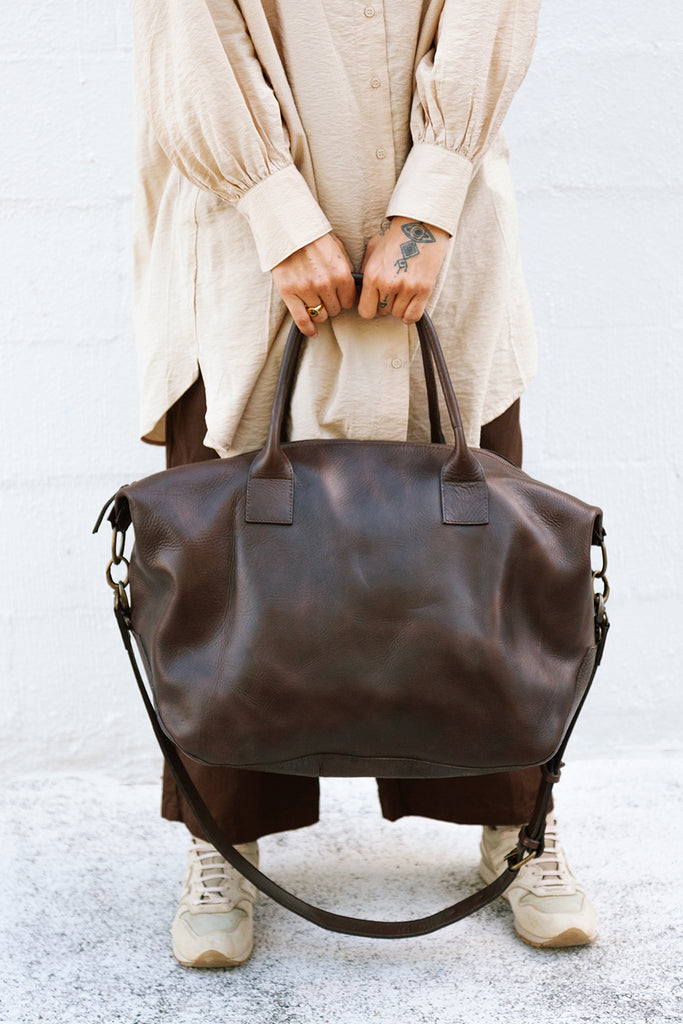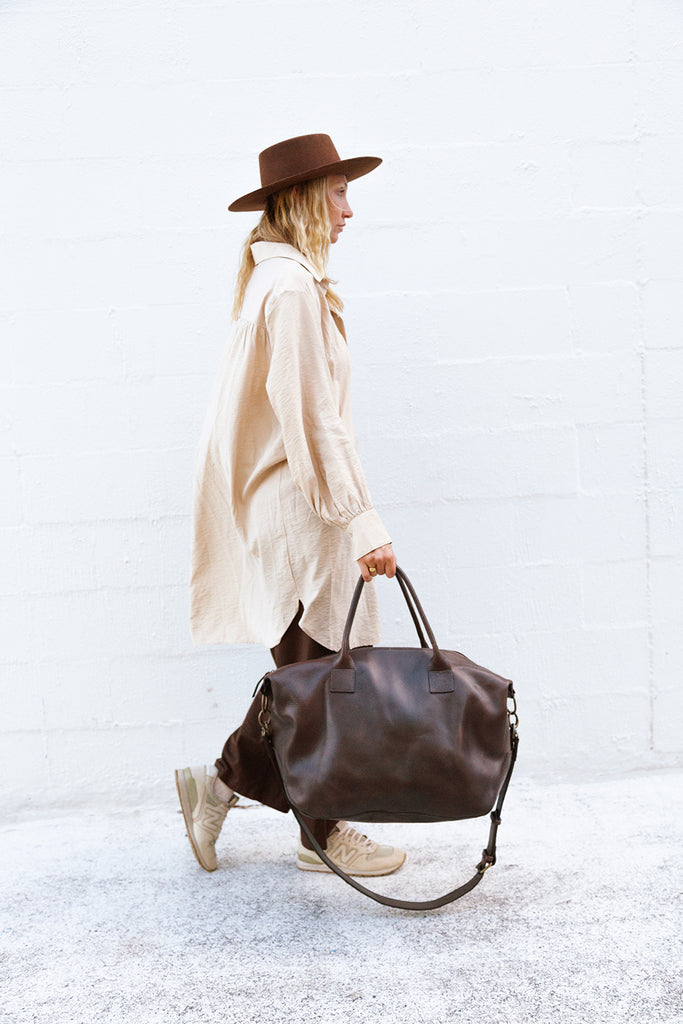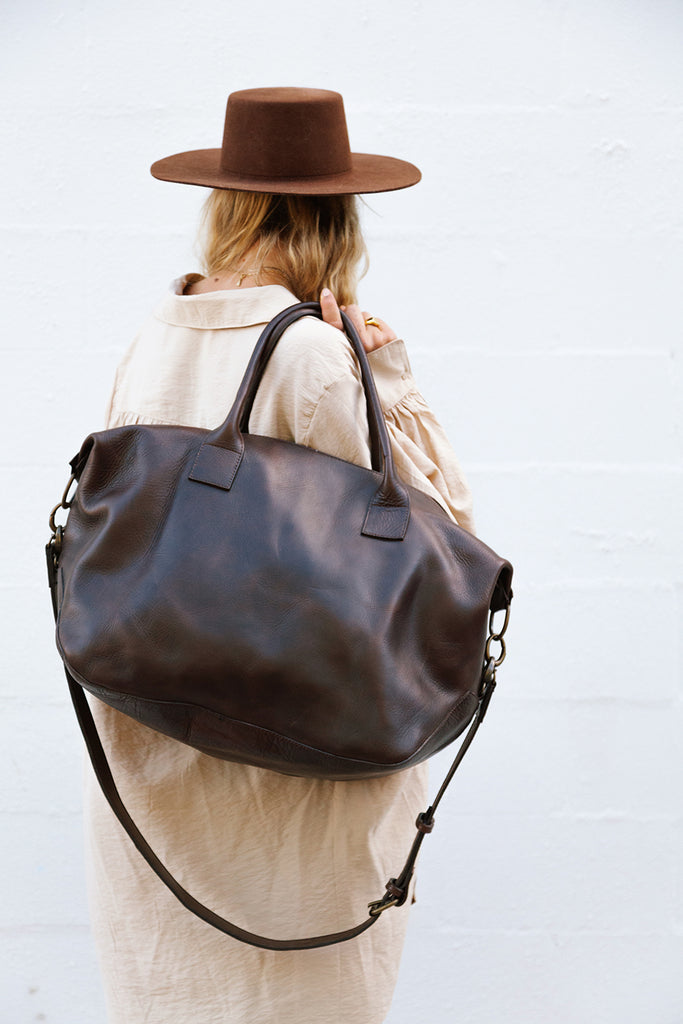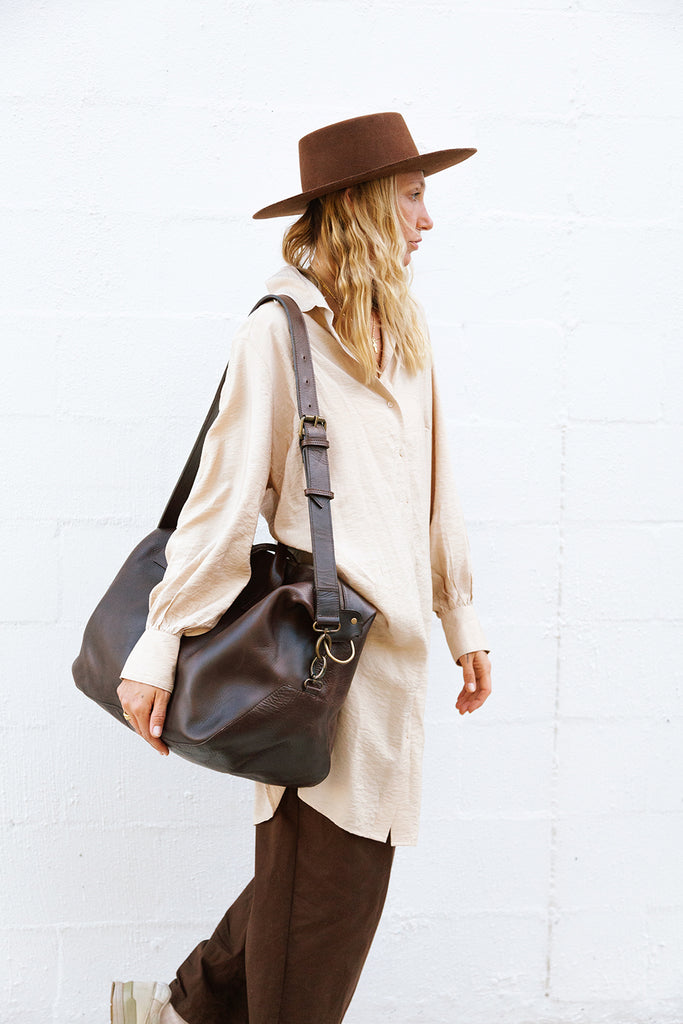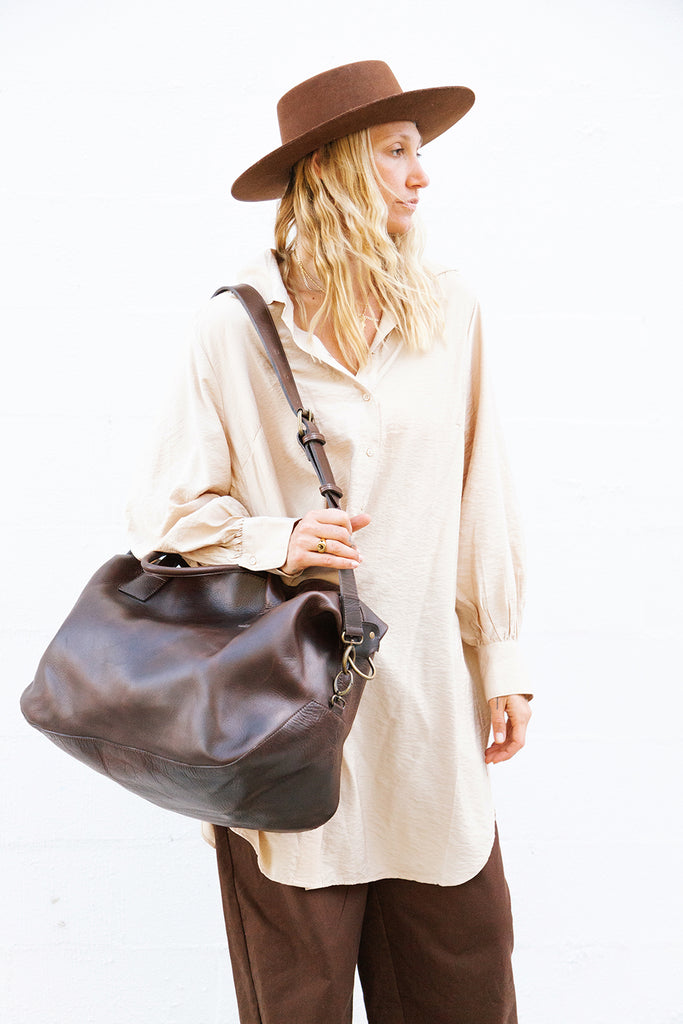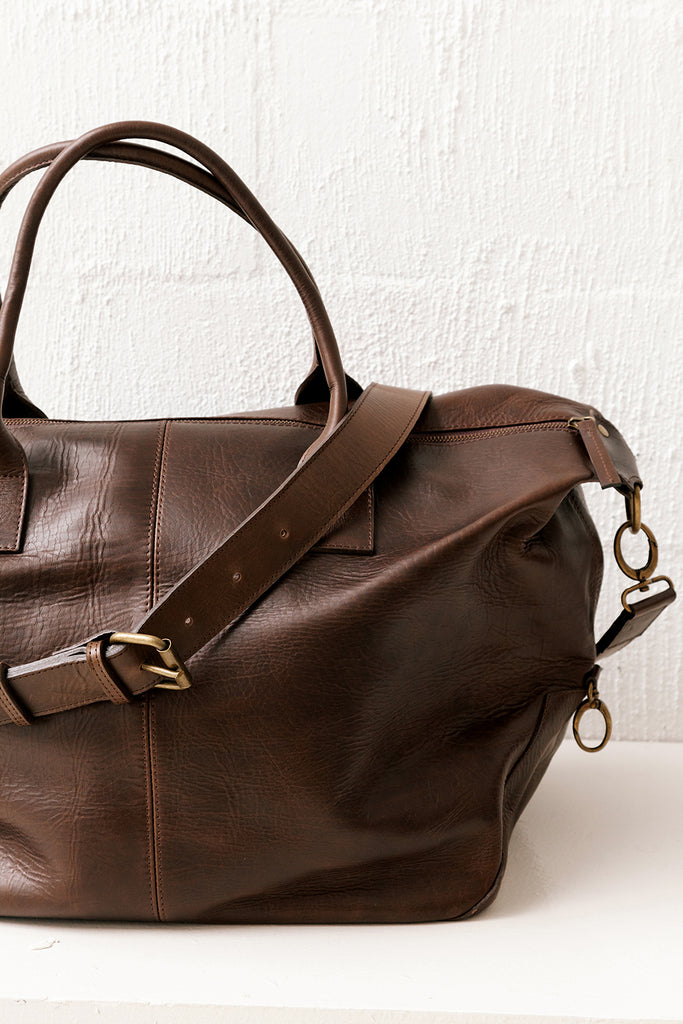 Porteño Weekender | Chocolate
$485.00

$575.00
Size: 37cm high, 50cm wide and 25cm depth / Strap 129cm
| 14.6in high, 19.7in wide and 9.8in depth / Strap 50.4in 
Fibre: Argentinean Leather
Construction: Hand & Machine crafted
Origin: Argentina
Made by: Porteño Craftsmen
Description + -
Pampa is deeply rooted in a pure love of exploring, we are excited to offer the perfect weekender bag made from 100% vegetable tanned leather. Sourced from Argentina, the high quality leather used to make these bags is thick, sturdy and beautiful.
The size and shape of this bag makes it an ideal weekender bag. Great for the plane and all kinds of intrepid travel, it has been thoughtfully made using rich, saddle nut brown leather and tanned using vegetable material. Vegetable tanning is a way to process the hides with pure and natural methods and without the use of harmful chemicals. The vegetable tannin solutions are made up from organic substances present in trees (such as oak or chestnut) and various plants.
We love the way that this kind of natural leather ages, much like a good wine. It will accumulate small marks and variations that add authenticity and document the beauty of the aging process. It's a bag that should last for years to come.
Porteño bags are handcrafted with care and made in a small workshop in Buenos Aires. When you purchase a bag, you're helping us trace the map that connects Argentina's talented craftmens with the global community.
Care + -
We recommend prolonging the life of your Porteño leather bag with leather & suede protector.
Shipping Info + -
Delivery times will vary from product to product and also depend on your location.
Objects will be delivered within 3 to 10 business days Australia wide and within 8 to 15 business days for international customers.
For more info refer to our FAQ + Shipping and returns.
Style tip + -
Mix and match accessories from the Porteño collection. We love layering with our Puna scarves and hats to have the full Pampa look.
PLANT TREES WITH US
Pampa is proud to partner with environmental charity One Tree Planted on crucial reforestation projects around the world. When you buy a rug or a print, you're planting 5 trees, and for other Pampa pieces you're planting 1 tree.
OUR JOURNAL
Tracing Maps
Stay | Anglers Shack
For this stay, we head south to the beautifully rugged Phillip Island. Long-time Pampa friend, Interior designer Simone Haag walks us through her welcoming and nostalgic home, Anglers Shack. "Phill...
read more >
Woman | Sophie Haber
The Woman series celebrates the enduring feminine spirit, with stories from inspirational women around the world. "I am Sophie Isadora Haber, a daughter, sister, lover, creative director, storytell...
read more >